Community Features
17 New Construction Homes in Echo Lake Area of South Snohomish County
Huge 1-Acre Lots
Non-Freeway Access to Redmond
2,900+ Square Foot Floorplans
Granite/Quartz Slab Countertops Throughout
Extensive Hardwood Floors Throughout and Wood-Wrapped Windows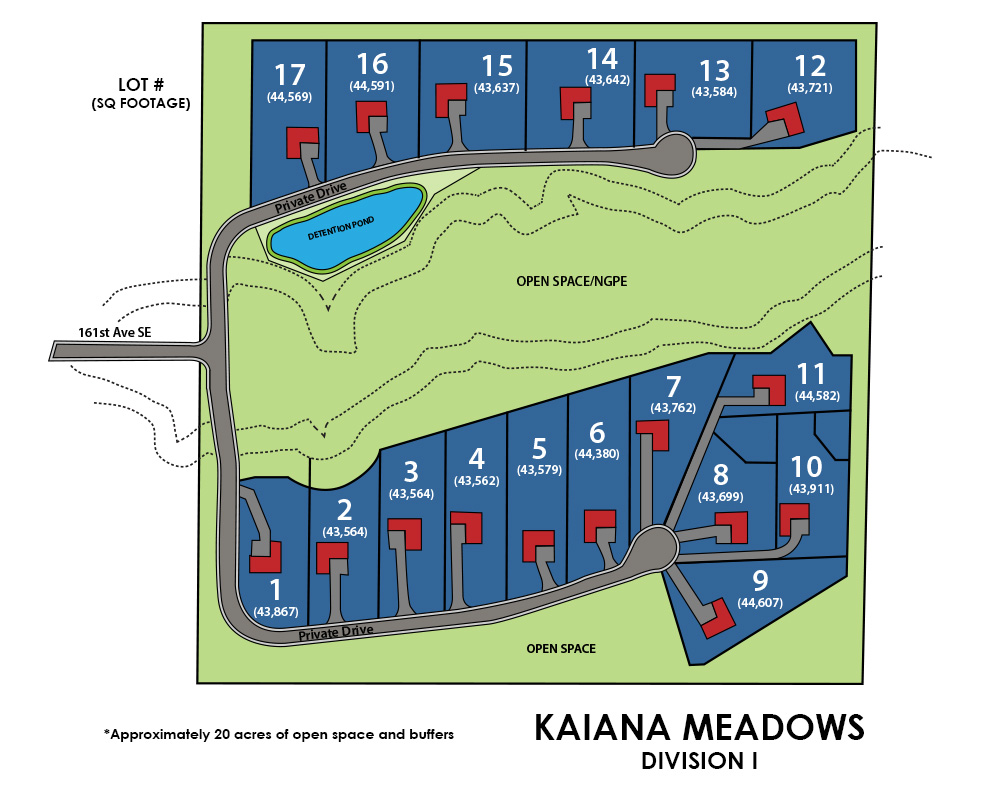 Kaiana Meadows Div 1 is 17 new construction homes in south Snohomish County in the Echo Lake neighborhood. The project is located near High Bridge Road at the cross Street of 224th St SE and 161st Ave SE in Monroe, WA and is located 14 miles north of downtown Redmond and the Microsoft Corporate Campus.
This project is unique in that it is 1 acre lots which are not common in the heart of the Eastside, and has non freeway access (not as much traffic congestion) to Redmond and the Eastside. The large lots have an appeal for people that are looking for bigger than a standard city lot (6-8,000 sq ft) and can easily accommodate large ramblers which are in demand.
Plat development began in July 2014 with construction of the first home scheduled to begin in Fall 2014. The houses in this development are 4-5 bedroom homes, primarily ramblers, between 2,900 and 3,400. Exquisitely finished level will be at or above similar houses in the area with slab granite/quartz throughout the house, wood wrapped windows on all floors, extensive hardwoods, hardi-plank siding with shingle and rock accented exteriors, and white painted millwork throughout.
Location